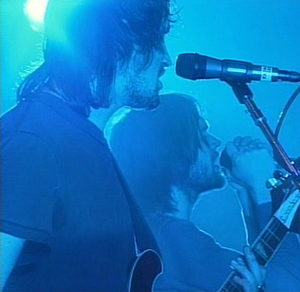 55 was written by Sergio Pizzorno and Christopher Karloff and released as a b-side to Club Foot.
Background
Edit
Only a live version of 55 has been released so far, although a studio version is rumoured to exist.
55 was played extensively during 2004 and 2005, notably at Brixton Academy, London in December 2004, where Live From Brixton Academy was recorded. A rare acoustic version was performed in September 2005 for American radio station KEXP.
Live Releases
Edit
I was classic amused
I've been abused by the organ
I didn't know where to turn
So I see that round at their hearts
And pull me down my old friend
'Cause I have lost my way
I stole the seats like a rack
Sequenced by the attack
Show me the classes
You bring your blood cells down
I'll rip the new problem
The heart sings around
And pull me down my old friend
'Cause I have lost my way
I breathe still like a broad smile
And empires walk away
Do I hear no time to run
Seeing fire, our death will come
Do I hear no time to run
Seeing fire, our death will come
Do I hear no time to run
Seeing fire, my life here all by myself
Shut up
Now this is just the beginning
Always knew I'd be quitting
It'll be your skies
Now this is just the beginning
Always knew I'd be quitting
It'll be your skies
Now this is just the beginning
Now this is just the beginning
Now this is just the beginning
Always knew I'd be quitting
It'll be your skies
Shut up, shut up, shut up, shut up
Shut up, shut up, shut up, shut up
Shut up, shut up, shut up, shut up
References
Edit