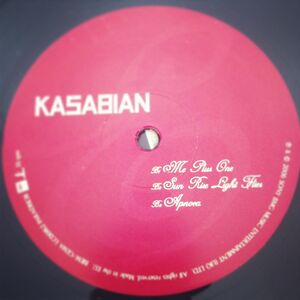 Apnoea was written by Sergio Pizzorno and is the 6th track on Empire.
Background
Edit
According to Serge, Apnoea is the bridge of the album, which takes a different route after the big songs on its first half. "We wanted the track to kick you in the face and leave," he told NME, "as soon as you get into it, it stops."[1] Regarding the title, he explained that "Apnoea is when you lose your breath in your sleep. And you... panic."[2] In an interview with Xfm in 2009 Tom referred to Vlad The Impaler as Apnoea's "older brother".[3]
Debuted on 6 December 2006 in Leicester, Apnoea has been performed only during the Empire era, usually as the first song of the encore.
Dig demons up
Set demons free
Issue my fire
On the weakened liar
Last gang in town
Set to burn it down
I summoned you to the aftermath
Apnoea
Bearing down on me
Apnoea
Bearing down on me
Apnoea
Bearing down on me
Apnoea
Bearing down on you
Apnoea
Bearing down on me
Apnoea
Bearing down on you
Get your boots in man
Get your boots in girl
See the piggies fly
See the system fail
Said it isn't me
Said it isn't you
Change made by all and not by one
Apnoea, apnoea
Get your boots in girl
Apnoea
Get your boots in man
Apnoea
Get your boots in girl
References
Edit