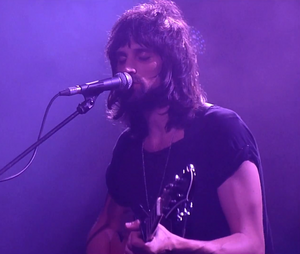 Black Whistler was written by Sergio Pizzorno and released as a b-side to Empire.
Background
Edit
Parts of Black Whistler are sampled from Prowlin' by the Whitefield Brothers. In 2013, the song was included as a bonus track on Idris Elba Presents Luther: Songs and Score from Series 1, 2 and 3, the soundtrack to the British TV show Luther, despite never having been featured in the series.[1] It had previously been considered for the show's theme song.[2]
Black Whistler was first performed at the Little Noise Sessions in November 2008 and has not been played often since, but more frequently during the second half of the Velociraptor! Tour. Occasionally Serge sings a snippet of Tupac's California Love during it.[3] In Lille in 2010 the band dedicated the song to Alexander McQueen, who had died two days prior, and Tom remained on stage to sing backing vocals.
Live Releases
Edit
Video
Two shots in the morning
Take it easy on yourself
A banging head from yesterday
Pidgeons fly so freely
Now the landlord kicks the door
Fetch a chair and stop that whore
'Cause we're so happy
I said we're happy at being sad
So wake up, oh wake up
'Cause I don't wanna fight with you no more
Wake up, fool wake up
Well we'll forget about the jungle on the floor
We can forget about the jungle on the floor
Warmth is for my lover
And the other for my hate
I guess that really sums us up
'Cause we're so happy
I said we're happy at being sad
So wake up, oh wake up
'Cause I don't wanna fight with you no more
I said now wake up, oh wake up
Well we'll forget about the jungle on the floor
We can forget about the jungle on the floor
References
Edit