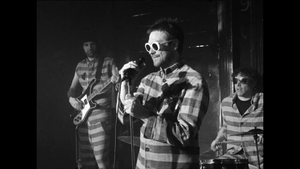 Bless This Acid House was written by Sergio Pizzorno and is the 11th track on For Crying Out Loud. It was released on 4 May 2017.
Background
Edit
Bless This Acid House was inspired by a poster designed by British artist Jeremy Deller that Serge saw at Mike Pickering's house, a former DJ who now works for Sony. "In the 70s, you'd hear a lot of tunes referencing rock 'n' roll from the 50s, so I though that was interesting, me referencing acid house, which is now 20-odd years old," he told Radio X. "But rather than do a synth track, I thought a punk song referencing acid house would be quite cool." In an interview with Q Magazine, Serge described it as "one of the best tunes [he has] ever written" and one that "transformed the album completely."[1][2] It is one of two tracks that were added to the finished album after the band decided to take the summer off in 2016, the other one being Ill Ray (The King). Both songs were recorded in January 2017.[3] The Japanese editions of the album include a demo version of Bless This Acid House.
The song was nominated in the Best Track category at the NME Awards 2018.
Bless This Acid House was first performed live on Later... with Jools Holland on 11 April 2017 and has been played at every gig of the For Crying Out Loud Tour since. It has also been performed in several acoustic sessions throughout 2017.
The official Bless This Acid House video was directed by WIZ and filmed in a flat in London in May 2017.[4] It was officially released on 13 June 2017, with an extended "director's cut" version being posted by WIZ the following day.
The video was nominated in the category Best Rock/Indie Video - UK at the UK Music Video Awards 2017.
Albums
One day it comes and then it gets you
Crashing waves, you're thinking it's all over
I swear they're never gonna break you
Gotta hold on tight
Still life, just waiting for the weekend
This town is easy to forget
Don't take the world upon your shoulder
Gotta get on home
She said
God bless this acid house
She said
God bless this acid house
She said
I get high for just one minute
I take my life and jump right in it
I see my friends in all our numbers
Rip up my plans, nothing matters
And I
Got no reason to lie
Got a reason to try
We've got time on our hands, our hands, our hands, our hands
Someday you'll find what you wanted
Felt like you're never gonna get it
Till then we can't miss the last train
Gotta get on home
You know we change for the better
I said it's easy to remember
All we will ever need is right where we are
She said
God bless this acid house
She said
God bless this acid house
She said
I get high for just one minute
I take my life and jump right in it
I see my friends in all our numbers
Rip up my plans, nothing matters
And I
Got no reason to lie
Got a reason to try
We've got time on our hands, our hands, our hands, our hands
God bless this acid house
She said
God bless this acid house
She said
I get high for just one minute
I take my life and jump right in it
I see my friends in all our numbers
God bless this house and all its lovers
I get high for just one minute
I take my life and dance right in it
I see my friends in all our numbers
Rip up my plans, they mean nothing And I
Got no reason to lie
Got a reason to try
I give all that I got to you, to you, to you, to you, to you, to you, to you
References
Edit