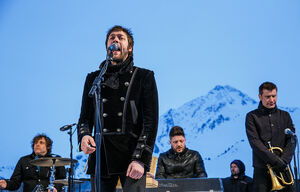 Breakfast In America is a song by Supertramp, released on their 1979 album of the same name.
Background
Edit
Kasabian first covered Breakfast In America on 4 April 2013 in an acoustic session they played at Snowbombing Festival in Austria, and then again during their main set on the following day.[1] The only known recording of the song to date is from the band's soundcheck in Munich on 3 April 2013.
Unreleased
References
Edit
Ad blocker interference detected!
Wikia is a free-to-use site that makes money from advertising. We have a modified experience for viewers using ad blockers

Wikia is not accessible if you've made further modifications. Remove the custom ad blocker rule(s) and the page will load as expected.