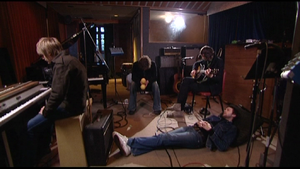 British Legion was written by Sergio Pizzorno and is the 10th track on Empire.
Background
Edit
British Legion is sung by Serge and is performed mostly acoustically. The song is about "being hammered" and being with people you love, with the title referring to The Royal British Legion, a UK charity organisation supporting veterans.[1] Style-wise, the song has been compared to a Bob Dylan track or Candy Says by The Velvet Underground.[2] When asked which song best represents the album, Chris named British Legion, because it's a very emotional song and reflects the band's state of mind during the recording. He explained that they recorded it at four in the morning in one take to continue working on it the following day, but when they listened back to it they decided to leave it like it was.[3] Tom has named it as his favourite song on the album and Ian has called it a "very powerful track".[4][5]
British Legion was played live regularly during the Empire Tour. It was first performed on 8 September 2006 at an acoustic session backstage at La Maroquinerie in Paris. Since 2007 the song has only been performed occasionally.
The documentary included in the deluxe edition of Empire contains footage of the band performing British Legion in the studio, with Chris playing a Wurlitzer organ, just like he does on the album version. In June 2015, the band published a video of Serge playing an acoustic version of the song on his own.[6]
"I sing this one. Did I have to pay Tom to let me? No, he demanded it! I do listen to Dylan and Velvet Underground tunes such as 'Candy Says'. I was playing it in the studio and Tom was like, 'Let's record that'. The end was actually a different song and we just stuck it on and it worked."

— Serge (NME, 2 September 2006)
"I will never forget when Serge sat down and started tapping his foot and he was doing the chorus to British Legion. I thought, 'I have just witnessed something here. I have just witnessed a bit of the history of modern rock 'n' roll in 2006 - right in front of me.' I know my band is alright when I hear those chords. That's when I know it's game over. When he started playing I just knew it was game over, a new step."

— Tom (Clash, 2 September 2006)
Live releases
Edit
Audio
See, see how she dances
With that cigarette in her hand
And she, she romances everybody
Like she can
She brings the light
That catches me again
Life, I've seen some wonders
I played my stupid games with you
Sing to me like I know you can
What girl would I be
She knits a snare
That catches me again
I guess you know to keep on dancing
Like I know you can
We're gonna make it through
We're gonna make it through now
We're gonna make it through
We're gonna make it through now
And the circuits leave this town
We're gonna make it through
We're gonna make it through now
We're gonna make it through
We're gonna make it through now
And the boys with their dreams
For the boys and their dreams
I know you can hear me
References
Edit