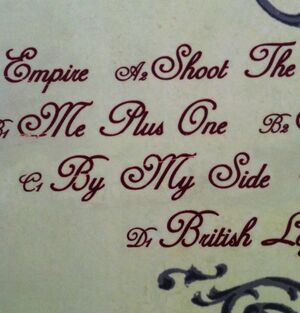 By My Side was written by Sergio Pizzorno and Christopher Karloff and is the 7th track on Empire.
Background
Edit
By My Side used to be called "Program 88", a title that still appears in several press releases announcing the release of the album. According to Serge it is about "having it with your mates and making sure they're all right. That's the thread of the whole album."[1]
After being debuted on 20 May 2006 in Mexico City, By My Side was played regularly during the Empire Tour until summer 2008.
Albums
Live Releases
Edit
Video
Come on, by my side
Come on, both sides
Come on, by my side
Come on, both sides
Step out of the shadows, said the children to their saints
You create these zombies just to keep them from their fate
No communication as the masters cheat and steal
Stars in constellation, now I notice who you are
Come on, by my side
Come on, both sides
Come on, by my side
Come on, both sides
Come on
No retaliation, said the poet to his kin
Separate the idols and commit your deadly sin
All is put aside while I finish what you start
I'll collect the numbers, you protect my heart
Come on, by my side
Come on, both sides
Come on, by my side
Come on, both sides
References
Edit