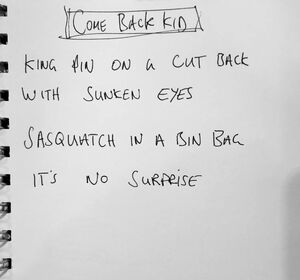 Comeback Kid was written by Sergio Pizzorno and is the 6th track on For Crying Out Loud. It was released on 31 March 2017.
Background
Edit
After the song's title was first mentioned in a Q Magazine interview in June, it was announced on 8 September 2016 that Comeback Kid would be featured on the FIFA 17 soundtrack.[1] The following day, Kasabian posted a picture of some handwritten lyrics on social media.[2] On 15 September 2016, a FIFA trailer featuring a snippet of the song was posted by EA Sports.[3] The full version from the game leaked on 22 September 2016.
In an interview with Q Magazine in January 2017, Serge mentioned writing a new intro for Comeback Kid.[4] On 31 March 2017, the album version of the song was officially released.
Comeback Kid was first performed live in Sydney on 8 March 2017, the first gig of Kasabian's For Crying Out Loud Tour and has been a part of the set since, most often as the first song of the encore.
Kingpin on a cut back
Kingpin on a cut back
With sunken eyes
Big cheese in a bedsit
Big cheese in a bedsit
A shit disguise
Stick and move, say you want to try me
You should have left me just where you found me
See you're dreaming, thinking what it could be
You'll have to trust me, just don't believe me
Reap what you sow
Comeback kid says hello
Here, here we stand
Side by side
Don't let go of my hand
Sasquatch in a bin bag
Sasquatch in a bin bag
It's no surprise
Nosebleed in a pound shop
Nosebleed in a pound shop
Spitting flies
Stick and move, say you want to try me
You should have left me just where you found me
Say good night, I'm 'bout to hypnotise you
Here it comes, I just thought I'd warn you
Reap what you sow
Comeback kid says hello
Here, here we stand
Side by side
Don't let go of my hand
References
Edit