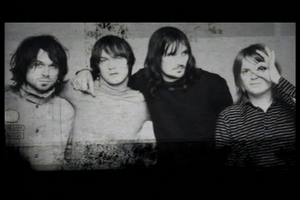 Expanding The Empire is a 22-minute documentary released on the Japanese Kasabian CD/DVD Album.
Background
Edit
Expanding The Empire was directed by Charlie Lightening and follows Kasabian to London, Japan and New York on their 2004 tour. It starts in October 2004 at the band's gig at the London Astoria and continues with Kasabian's first promo tour through Japan, playing in different cities and performing on the roof of Tower Records in Tokyo. It shows the band shooting the video for Cutt Off in New York City and playing a gig at the Bowery Ballroom in November 2004. The entire documentary is subtitled in Japanese. It was also planned to be included as bonus material on the Live From Brixton Academy DVD that ended up never being released.[1]
References
Edit
Ad blocker interference detected!
Wikia is a free-to-use site that makes money from advertising. We have a modified experience for viewers using ad blockers

Wikia is not accessible if you've made further modifications. Remove the custom ad blocker rule(s) and the page will load as expected.