On 25 June 2004, Kasabian opened the Other Stage at 11am.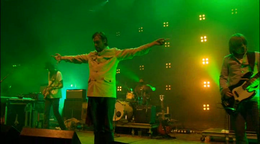 On 25 June 2005, Kasabian returned to the Other Stage, this time playing before headliner Razorlight.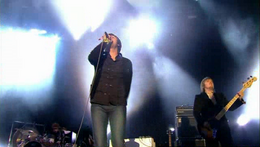 On 22 June 2007, Kasabian played on the Pyramid Stage before headliner Arctic Monkeys.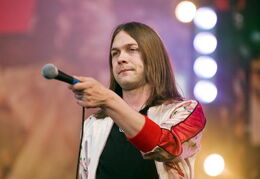 On 27 June 2009, Kasabian performed on the Pyramid Stage before headliner Bruce Springsteen.
On 29 June 2014, Kasabian headlined the Pyramid Stage for the first time.
Before Fire the band sang Happy Birthday for guitar technician Rick Graham
Noel Fielding joined Kasabian on stage during Vlad The Impaler
The full set was broadcast live on BBC Two and streamed online
Kasabian's performance was nominated for Headline Performance of the Year at the 2014 UK Festival Awards, for Best Festival Performance at the 2014 Live UK Music Business Awards, and for Music Moment of the Year at the 2015 NME Awards. A comment by Serge - "Five records, 10 years. We've earned our shot" - won Best Quote.
Ad blocker interference detected!
Wikia is a free-to-use site that makes money from advertising. We have a modified experience for viewers using ad blockers

Wikia is not accessible if you've made further modifications. Remove the custom ad blocker rule(s) and the page will load as expected.