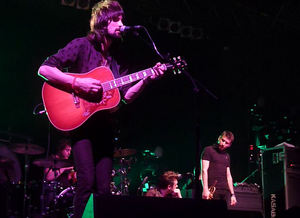 La Fee Verte was written by Sergio Pizzorno and is the 4th track on Velociraptor!.
Background
Edit
Originally written for West Ryder Pauper Lunatic Asylum,[1] an earlier version of La Fee Verte first appeared in the 2010 film London Boulevard - for which Serge wrote the entire score - by its English name "The Green Fairy". Described by Serge as the best song he's ever written, it's about "[pulling] out the absinthe and [heading] for oblivion" as well as today's celebrity culture.[2][3] In an interview in summer 2011 Serge and Tom called it "an ode to losing your mind" and "an upbeat lullaby" respectively.[4] After the soundtrack version of the song featured drum tech Laurie Jenkins on drums, the one that was released on Velociraptor! has been re-recorded with the whole band, as well as slightly different lyrics that contain references to Noel Fielding ("Dalí") and Zak Starkey, who are friends of the band, as well as to David Bowie and The Beatles.[5]
First played at a gig for MTV World Stage in Dublin on 5 November 2011, La Fee Verte has been performed on and off since. The live version features an additional synth part and Tom singing backing vocals most of the time. At a gig in Liverpool in December 2011 an unexpected power cut turned most of the stage lights off during Empire, prompting the band to ask the audience to hold up their cameras and phones to illuminate the stage for La Fee Verte, which they kept up for the rest of the arena tour.
"It's about going out for some milk and not returning for three days. It's about turning the lights off to the world because the world's so fucking messed up that you just can't deal with it anymore. You get the absinthe out and you go on a little trip of your own."

— Serge (Scene Magazine, 28 September 2011)
Albums
Live Releases
Edit
Old green fairy what you done to me
I see Lucy in the sky
Telling me I'm high
I went out for some milk three days ago
I met Dalí in the street
He knocked me off my feet

Now I start to see that all's not well
There's policemen in my bed
Telling me I'm dead
If only I could show them what I've seen
I'll have to take you down below
Where insects run the show

Sound and vision
Turning inside out
The lines make you look older
Then you're gone

Everyday
I got someone bringing me down
I got the eyes of a madman
I'm chasing round
How does it feel
To live your life where nothing is real
So just send me down the river

The neighbours say that I need locking up
Well they wouldn't be the first
To want me in a hearse
No one sleeps for I am still awake
Pass me over La Fee Verte
I'll give you all a scare

Dogs in handbags
Everyone's a star
You look behind your eyelids
Then you're gone

Everyday
I got someone bringing me down
I got the eyes of a madman
I'm chasing round
How does it feel
To live your life where nothing is real
So just send me down the river

I'm not gonna wait for tomorrow
I just look back and wait for a sign
And I'm not gonna celebrate my freedom
So just send me down the river
References
Edit