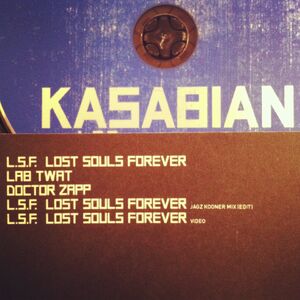 Lab Twat was written by Sergio Pizzorno and Christopher Karloff and released as a b-side to L.S.F. (Lost Souls Forever).
Background
Edit
Lab Twat has never been performed live.
"We've got the humour as well. No-one realises, we're calling a song 'Club Foot' and having a song called 'Lab Twat', no-one ever laughs at that. It's the stupidest name but everyone's dead serious about it."

— Serge (NME, 24 November 2007)
Our saviour
The beast is young
With the heart
Years waiting
For the rain
Feel it come
There's a closing
The flashing sun
Feel the fire
Run
Run
Our saviour
Our saviour
References
Edit
Ad blocker interference detected!
Wikia is a free-to-use site that makes money from advertising. We have a modified experience for viewers using ad blockers

Wikia is not accessible if you've made further modifications. Remove the custom ad blocker rule(s) and the page will load as expected.