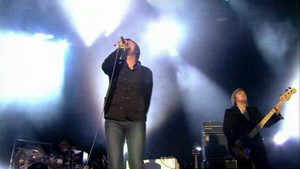 Last Trip (In Flight) was written by Sergio Pizzorno and is the 3rd track on Empire.
Background
Edit
Last Trip (In Flight) is, according to Serge, about "having a few too many psychedelic drugs and having a bit of a boogie." It is supposed to sound "sci-fi" and "like a mad old 45 you discover in a record store."[1]
Club night This Feeling, which is organised by a friend of the band, is named after a lyric from the song.
After being debuted on 20 May 2006 in Mexico City, Last Trip (In Flight) was performed regularly during the Empire Tour and brought back for only for a few dates of the 2009 arena tour.
Albums
Live Releases
Edit
I don't sit alone 'cause I got you
Making tracks through these woods
I'm gonna get my blues, just holding snacks
Dropping these tabs
A hero comes
This is the last trip
Just wanna get you on your own
(He's in flight)
This is the last trip
Just wanna get you on your own
Now I don't see no light
I don't taste no spit
Silent flash, hear the bang
I'm gonna get my rush
(This feeling)
No going back
(This feeling)
Holding hands
(This feeling)
With you
The circus comes
(This feeling)
This feeling (he's in flight)
This feeling (he's in flight)
This feeling (he's in flight)
This feeling
This is the last trip
Just wanna get you on your own
(He's in flight)
This is the last trip
Just wanna get you on your own
(He's in flight)
This feeling
This feeling
This feeling
This feeling
References
Edit