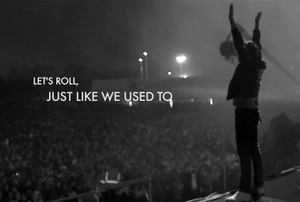 For the song, see Let's Roll Just Like We Used To.
Let's Roll Just Like We Used To is a 24-minute documentary released on the Velociraptor! Super Deluxe Box.
Background
Edit
Let's Roll Just Like We Used To was directed by Charlie Lightening and spans Kasabian's career from the recording of Empire in 2006 to Isle of Wight Festival 2011. It is compiled from footage used previously in the Empire documentary, showing the band at Rockfield Studios, behind the scenes material from the Fire video in South Africa, footage from the making of West Ryder Pauper Lunatic Asylum and subsequent rehearsals, as well as recordings from the arena tour, most of which had already been released on the band's official YouTube channel throughout 2009. After unseen footage from V Festival 2010, the documentary follows the band to San Francisco, where they recorded Velociraptor! in early 2011, and ends with their headline slot at Isle of Wight Festival in June. The whole documentary is accompanied by voiceovers from Tom and Serge, looking back and commenting on the events of the previous few years.
Ad blocker interference detected!
Wikia is a free-to-use site that makes money from advertising. We have a modified experience for viewers using ad blockers

Wikia is not accessible if you've made further modifications. Remove the custom ad blocker rule(s) and the page will load as expected.