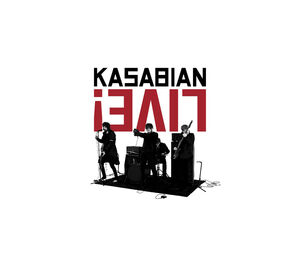 Live! is Kasabian's second official live album. It was released in February 2012.[1]
Background
Edit
Recorded at the final two gigs of the 2011 arena tour on 14 and 15 December 2011 in London, Live! was released and distributed via Concert Live as part of what was originally intended to be a series of recordings from nine gigs of the tour.[2] Due to an internal disagreement it was discontinued after only two dates, Brighton and Cardiff.
The first 80 copies sent out had the date as the 15th instead of the 14th, but with the release of Live At The O2 it transpired that audio footage from both dates was used on the album. After a limited edition of 5,000 copies, Live! was reissued in May 2012 with slightly different packaging.[3] Despite having the number 79 on the back, the two discs bear the number PARADISE77, the same as Live In The UK. This was fixed on the reissue.
A digital version was released on 28 June 2013 with the launch of Concert Live's MP3 store.[4]
Tracklisting
Edit
Disc 1

Disc 2

* Songs recorded on 15 December 2012
Personnel
Edit
Tom Meighan
Sergio Pizzorno
Chris Edwards
Ian Matthews
Jay Mehler
Ben Kealey
Gary Alesbrook
Dirty Pretty Strings
Main article: Gallery
References
Edit