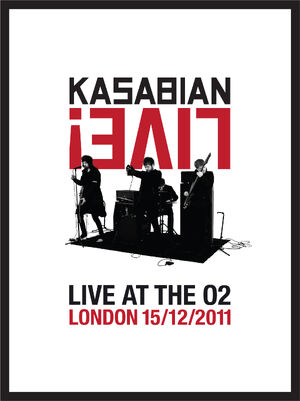 Live At The O2 is Kasabian's first official live DVD. It was released on 25 June 2012.
Background
Edit
Live At The O2 was directed by Charlie Lightening and recorded on 15 December 2011 at the O2, London, the last gig of the band's arena tour and Serge's birthday. On 30 May 2012 the concert was screened in select cinemas across the UK for one night only. Four different versions of the DVD were released, a regular DVD and a Blu-ray, with or without a bonus audio CD containing a part of the gig. It also includes a 29-minute documentary called I Hear Voices, which shows the band backstage during their arena tour in the UK and Ireland in November and December 2011. British record store Townsend Records sold the DVD with an exclusive set of five postcards bearing photographs by Dean Chalkley.[1]
The US versions of the DVD were released with different PARADISE numbers.
Tracklisting
Edit
Personnel
Edit
Kasabian
Tom Meighan
Sergio Pizzorno
Chris Edwards
Ian Matthews
Additional Musicians
Jason Mehler
Ben Kealey
Gary Alesbrook
Dirty Pretty Strings
Technical Staff
Charlie Lightening (Director)
Audrey Davenport (Production)
Alex Reyes-Knight (Production - Documentary)
"You decide at the start of the tour when you're going shoot it and it's always a strange one because you don't have any idea how the gig's going to turn out. We were fucking really lucky, because it happened to be arguably the best show of the whole tour which was really nice. The energy was phenomenal. Especially in London as well, which is usually a bit of a tougher crowd. It was an incredible, incredible night."

— Serge (NME.com, 30 May 2012)
"We love the film, it brings something different for our fans who can see us up close on the big screen! The sound and visuals absolutely rock and we could not be more excited about the results. This was a truly memorable tour for us and an unforgettable night, and we love the fact it has been captured on film in such a brilliant way."

— Tom (Digital Spy, 18 May 2012)
References
Edit