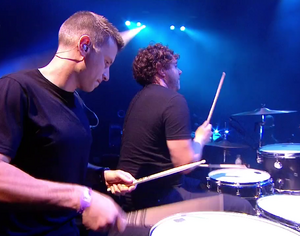 Lust For Life is a song by Iggy Pop, released on his 1977 album by the same name.
Background
Edit
Kasabian covered Lust For Life at T in the Park 2015, performing the first verse and chorus. Gary joined Ian on drums for the song.
Unreleased
Here comes Johnny Yen again
With the liquor and drugs
And the flesh machine
He's gonna do another striptease
Hey man, where'd you get that lotion
I've been hurting since I bought the gimmick
About something called love
Yeah something called love
That's like hypnotizing chickens
Well I am just a modern guy
Of course I've had it in the ear before
'Cause of a lust for life
'Cause of a lust for life
Ad blocker interference detected!
Wikia is a free-to-use site that makes money from advertising. We have a modified experience for viewers using ad blockers

Wikia is not accessible if you've made further modifications. Remove the custom ad blocker rule(s) and the page will load as expected.