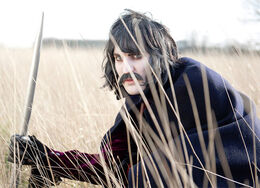 In Vlad The Impaler, the lyric "Joker, see you on the other side" is a reference to actor Heath Ledger, who died shortly after the song was written.[1] During live performances, Tom will often substitute "Joker" with names of recently deceased celebrities, and occasionally living people, fictional characters, and other things.
Adam Yauch / MCA
Alvin Lee
Amy Winehouse
B.B. King
Bobby Womack
Bruce Forsyth
Coachella
Davy Jones
Dennis Hopper
Gary Speed
Heath Ledger
Isle of Wight
Jack Bruce
Jack the Ripper
James Gandolfini / Tony Soprano
Jimmy Savile
Joan Rivers
John Lennon
Kanye West
Kings of Leon
Larry Hagman (referred to as "Mr Dallas" by Tom)
Macaulay Culkin
Michael Jackson
Neil Armstrong
NME
Rik Mayall
Robin Williams / Mrs Doubtfire
Serge Pizzorno
Switzerland
Thomas Meighan
Tintin
Whitney Houston
References
Ad blocker interference detected!
Wikia is a free-to-use site that makes money from advertising. We have a modified experience for viewers using ad blockers

Wikia is not accessible if you've made further modifications. Remove the custom ad blocker rule(s) and the page will load as expected.