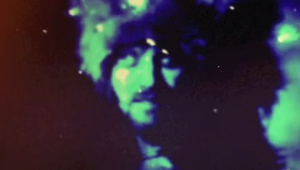 Neon Noon was written by Sergio Pizzorno and is the 11th track on Velociraptor!.
Background
Edit
Inspired by Pink Floyd's Wish You Were Here, Neon Noon is supposed to be the spaceship that brings the listener back to Earth after the journey of the album.[1] Despite being a mostly acoustic song, it also has a "modern electro vibe" that Serge likened to The Chemical Brothers.[2]
Neon Noon was first performed live on 25 October 2014 in Berlin and featured Tim and Ben singing backing vocals. It was played only a handful of times until the end of November 2014.
A video, made by Serge with his phone using a night light and four mirrors, was posted on the official Kasabian website on 19 March 2012.
"It's about dying in Vegas with your best mate in the desert. Hand in hand."

— Serge (Xfm Track by Track, 21 September 2011)
"Because this album takes you everywhere, you need a landing bay. This track's got a feeling like you're in a space pod, and you're just floatin' 'round space, and then it slowly brings you back down to earth and lands. Then you can open the capsule, take a deep breath and get on with your day. It's such a wonderful ending."

— Serge (Scene Magazine, 28 September 2011)
Sink like a stone
Hear no sound
Time stood still
Enter the void
Leave no trace
Of where you've been

Never thought you'd understand
The years are slipping out of your hand
All we ever want to be
Is floating in the emerald sky

Our skeletons remain
Under a neon noon

Hands turn to dust
Psychic waves
Fill the air
All we have
Is what we've done
To what we had

Never thought you'd understand
The years are slipping out of your hand
All we ever want to be
Is floating in the emerald sky

Our skeletons remain
Under a neon noon

Sink like a stone
Hear no sound
Time stood still
All we have
Is what we've done
To what we had
References
Edit
↑

Q Magazine, September 2011