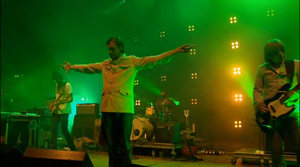 Ovary Stripe was written by Sergio Pizzorno and Christopher Karloff and is the 12th track on Kasabian's debut album.
Background
Edit
Ovary Stripe is an instrumental track. It was initially released only on the debut album's UK and Japanese editions and omitted from the other foreign editions.
Ovary Stripe was performed regularly during the debut album era, usually preceeding Club Foot, which used to be the set closer. In September 2014 Kasabian played it for the first time in nearly nine years at iTunes Festival, where they performed their debut album in its entirety to mark the tenth anniversary of its release.
Band Remix
Edit
Released on
Samples Version
Edit
The samples version contains audio from the 1982 documentary The Killing of America. The person speaking is James R. Hoskins, who took the employees of TV station WCPO hostage in October 1980. The samples are taken from an interview he gave while barricaded inside the newsroom, before shooting himself after a standoff with the police. The remix was released on the Ovary Stripe Promo CD and is also featured on the Kasabian Media Kit.
Albums
Live Releases
Edit
Audio
References
Edit