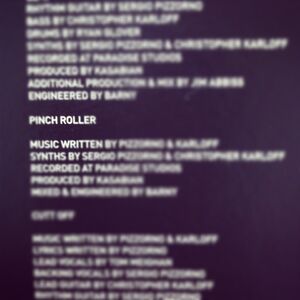 Pinch Roller was written by Sergio Pizzorno and Christopher Karloff and is the 9th track on Kasabian's debut album.
Background
Edit
Pinch Roller is an instrumental track. It was released only on the debut album's UK and Japanese editions and omitted from the other foreign editions.
During the debut album era, Pinch Roller was often played as an intro while the band was walking on stage, followed by I.D.. Pinch Roller was also performed live as an intro to Club Foot at the BBC Electric Proms in October 2006. Kasabian played Pinch Roller for the first time in nearly eight years at iTunes Festival 2014 where they played the debut album in its entirely to mark it's tenth anniversary. At the end of the 48:13 Tour the band played as an intro to Empire.
References
Edit