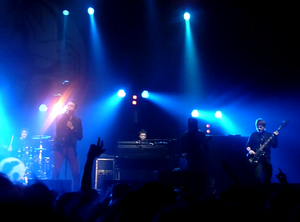 Pistols At Dawn was written by Sergio Pizzorno and released as a b-side to Days Are Forgotten.
Background
Edit
Written together with most of the album tracks, Pistols At Dawn was eventually left off Velociraptor!, despite Tom fighting to have it included, because it was deemed too long and didn't fit.[1]
The song was featured on the international version of the Avengers Assemble soundtrack in 2012.[2]
Pistols At Dawn was debuted in Lille on 28 February 2012 and has been performed live four times in early 2012, with guitar technician Dave White joining the band on a third guitar.
"We had to drop a tune called 'Pistols At Dawn', which was my favourite, and I'm screaming at Serge at three in the morning going, 'Fucking no way, it's going on there!' And he's like, 'Listen, man, chill the fuck out. We've got 12 songs and this song's about eight minutes too long.' 'Nah, man, I fucking don't care, it's getting on there!' But that's healthy, you know, that's good, that heated discussion. I was like, I'm taking it to war, something stupid like that; I'm taking the Velociraptor to war!"

— Tom (Rolling Stone Australia, December 2011)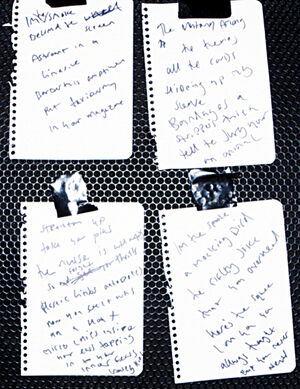 I'm the smoke
Behind the screen
Astronaut in a limousine
Barbiturates
Amphetamines
Put taxidermy in your magazines
The mutiny
Amongst the thieves
All the cards hiding up my sleeves
Bandages
On strippers' thighs
Tell the jury you're an animal
Best laid plans can wait
Don't need them now
This aggravation is heavy duty
Best laid plans can wait
Don't need them now
You got to slow down and see the beauty
Straighten up
Take your pills
Nurse is watching so forget your thrills
Plastic limbs
Antidotes
Now you see it was all a hoax
Micro chips
Inside your ears
Tapping into your inner fears
Lousy kids
Weekend sick
Beaten up with the ugly stick
Best laid plans can wait
Don't need them now
This aggravation is heavy duty
Best laid plans can wait
Don't need them now
You got to slow down and see the beauty
Oh temper temper merci
Resorting to violence if you disagree
Oh the rhythm, the rhythm is slow
Have to admit you're the star of the show
Oh temper temper merci
Sitting there laughing it's now that you see
All the visions, the visions are black
Says on your gravestone you're not coming back
I'm a spook
A mockingbird
The filthy joke that you overheard
So here's the squeeze
I am you
You always thought but you never knew
Best laid plans can wait
Don't need them now
This aggravation is heavy duty
Best laid plans can wait
Don't need them now
You got to slow down and see the beauty
References
Edit
↑

Rolling Stone Australia, December 2011