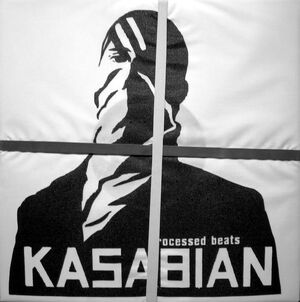 Released on 10 November 2003.
Tracklisting
Edit
Side A
Processed Beats (Demo)
Limited release of 1,000 copies, wrapped in a white flag depicting the Kasabian logo, secured with two elastic bands. The words "tutti a la mossa" (tutti alla mossa is Italian for "all to the movement") are etched into the blank b-side. A few versions containing a misprinted flag are in circulation.[1]
Main article: Gallery
References
Edit
Ad blocker interference detected!
Wikia is a free-to-use site that makes money from advertising. We have a modified experience for viewers using ad blockers

Wikia is not accessible if you've made further modifications. Remove the custom ad blocker rule(s) and the page will load as expected.