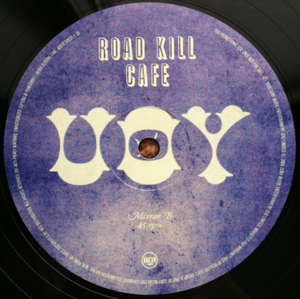 Road Kill Café was written by Sergio Pizzorno and released as a b-side to Fire.
Background
Edit
Road Kill Café has been described by Serge as sounding like Cream or a song that could have been on The Beatles' White Album.[1] The song contains a backwards verse in the middle.
Road Kill Café has never been performed live.
Making my stops at the Road Kill Café
Combing my hair with a skeleton bone
Look at my shoes and they taste like honey
Everybody said to the spider and the fly
Everybody said the spider don't try
Everybody working at the Road Kill Café
You can run for president, straighten up your tie
Open your mind, it'll make you happy
Polish your greens with potatoes and a pie
A jack knife rabbit just poked me in the eye
Calling all the freaks to the Road Kill Café
You can leave your babies with your rides by the door
Look at your suit, man, you dress so snappy
Sharpen your machete on a hoodoo drum
Feeding your spaghetti through the barrel of a gun
Feeding your spaghetti through the barrel of a gun
Calling all the freaks to the Road Kill Café
References
Edit