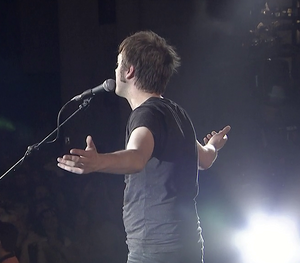 She Loves You is a song by The Beatles, released in 1963.
Background
Edit
Following the band's set at Hultsfredfestivalen on 15 June 2012, Tom remained on stage and sang a part of She Loves You a capella. He continued to do this at almost every gig until the end of the end of the 2013 tour, occasionally being joined by Serge. Asked about it by Q Magazine, Tom explained that he sings the song because it's a "rallying cry" and the Knees Up Mother Brown of this generation.[1]
Tom has been singing other Beatles songs in a similar fashion: On 22 November 2011 in Paris, he and Serge sang Michelle after the gig had finished, on 7 June 2012 at Caribana Festival in Switzerland Tom sang Rain, and on 25 July 2012 in Kiev Back In The USSR. During the 48:13 Tour he sang All You Need Is Love several times.
Unreleased
You think you lost your love
When I saw her yesterday
It's you she's thinking of
And she told me what to say
She says she loves you
And you know that can't be bad
Yes, she loves you
And you know you should be glad
She loves you, yeah, yeah, yeah
References
Edit
↑

Q Magazine, September 2012
Ad blocker interference detected!
Wikia is a free-to-use site that makes money from advertising. We have a modified experience for viewers using ad blockers

Wikia is not accessible if you've made further modifications. Remove the custom ad blocker rule(s) and the page will load as expected.