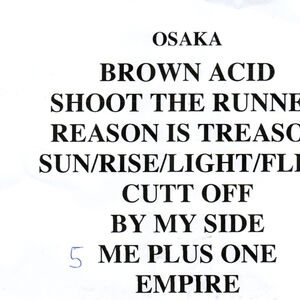 Stay Away From The Brown Acid (Part 1) was written by Sergio Pizzorno and released as a b-side to Shoot The Runner.
Background
Edit
Despite being called Part 1, a second part of Stay Away From The Brown Acid does not exist. "Just like when you're on acid, it doesn't make any sense at all," Serge said. Asked for a message to their fans at a press conference at Open Air Festival Panenský Týnec in 2010, he replied with the title of the song.
Stay Away From The Brown Acid was performed as an intro during the Empire Tour.
References
Edit
Ad blocker interference detected!
Wikia is a free-to-use site that makes money from advertising. We have a modified experience for viewers using ad blockers

Wikia is not accessible if you've made further modifications. Remove the custom ad blocker rule(s) and the page will load as expected.