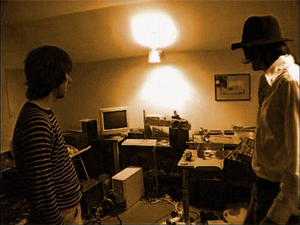 "When I'm in the studio that's where I'm the most happy in the world. Everything's in its right place, this is where I belong. Close the door, this is it."

— Serge
Abbey Road Studios
Edit
The strings for 48:13 were recorded in London's famous Abbey Road Studios.[1]
British Grove
Edit
British Grove Studios are in London and owned by Mark Knopfler. The strings for Velociraptor! were recorded there in November 2011, as well as Serge's score for London Boulevard the previous year.[2]
E-Land Mig
Edit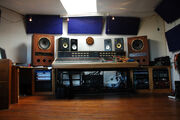 E-Land Mig is Kasabian's former studio in Earl Shilton, Leicestershire, located in Gren Spencer's Convolution Rooms in an old shoe factory. Parts of West Ryder Pauper Lunatic Asylum were recorded there.[3]
The Glue Factory
Edit
The Glue Factory is Dan the Automator's home studio in San Francisco. Tom and Serge spent several weeks there in 2008, and again in 2011, recording vocals for and mixing West Ryder Pauper Lunatic Asylum and Velociraptor!.[4]
Hook End Manor Studios
Edit
Hook End Manor Studios are in Oxfordshire, built by Alvin Lee, and were previously owned by David Gilmour. Kasabian rehearsed here in May 2011 for their upcoming tour.[5]
Paradise Studios
Edit
Paradise Studios was the name given to the farm in Rutland where Kasabian lived and recorded their debut album.[6]
Rockfield Studios
Edit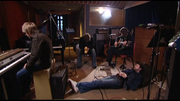 Rockfield Studios are in Monmouthshire, Wales. Kasabian recorded Empire there between December 2005 and February 2006.[7] They returned in late 2011 to rehearse for their arena tour.[8]
The Sergery
Edit
The Sergery is Serge's home studio in Leicestershire, where the majority of Velociraptor! and 48:13 were recorded. It is sometimes misspelled as "The Surgery" in various record sleeves.[9]
State of the Ark Studios
Edit
In November 2013 Kasabian spent three weeks at State of the Ark Studios in London, mixing 48:13.[9]
Strongroom Studios
Edit
Kasabian spent time at Strongroom Studios in London between December 2015 and February 2016, recording for their sixth studio album.[10]
Wheeler End
Edit
Wheeler End is a studio in Buckinghamshire that used to be owned by Alvin Lee and his wife Suzanne, and leased by Oasis as their permanent recording studio until 2008. Kasabian went there in spring 2009 to rehearse for their upcoming tour.[11]
References
Edit
Ad blocker interference detected!
Wikia is a free-to-use site that makes money from advertising. We have a modified experience for viewers using ad blockers

Wikia is not accessible if you've made further modifications. Remove the custom ad blocker rule(s) and the page will load as expected.