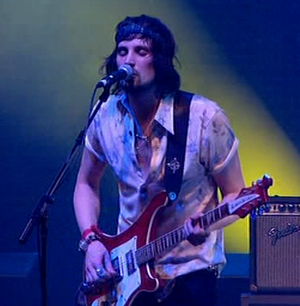 Stuntman was written by Sergio Pizzorno and Christopher Karloff and is the 8th track on Empire.
Background
Edit
An earlier version of Stuntman was featured in the trailer to the 2005 film Green Street. In 2009 the song was included on Brand Neu!, a compilation album of artists influenced by the German krautrock band Neu!.[1]
Being one of the first tracks written for Empire, Stuntman was performed as early as February 2005, over a year before the release of the album. It remained a permanent staple of the setlist during the Empire Tour and was kept for most of the West Ryder Pauper Lunatic Asylum Tour. The band played the song together with a cover of Donna Summer's I Feel Love for the first leg of the Velociraptor! Tour before dropping it. It was brought back during the North American tour in spring 2012 and played a handful of times since, using DJ Shadow's Organ Donor as an intro. Live performances sometimes feature the "get higher baby" part from White Lines by Grandmaster Flash.
"It's a fucking mad techno tune. It's madness! It's about the fascination our nation has with the rush; the dark side; the release! Stuntmen put their bodies through this madness because of that rush. We get our release onstage, but other people have to express themselves in different ways. It's why people are hooligans."

— Serge (NME, 2 September 2006)
Albums
Live Releases
Edit
No map looking for the one I love
'Cause the one I love is here
And no map looking for the one who stands
'Cause he's arming me from fear
He got tuned into, to the other side
Lives spent digging holes to the, to the ones you hide
See the white of your eyes
I'm a stuntman
See the white of your eyes
I'm a stuntman
See the white of your eyes
I'm a stuntman
See the white of your eyes
More cuts taken for the one in silence
Now he sits between my ears
His moves in madness, how I love the rush
'Cause you wipe away these tears
And we got taken in by, by a rush of blood
My train's leaving now, how I wish I could
See the white of your eyes
I'm a stuntman
See the white of your eyes
I'm a stuntman
See the white of your eyes
I'm a stuntman
See the white of your eyes
References
Edit