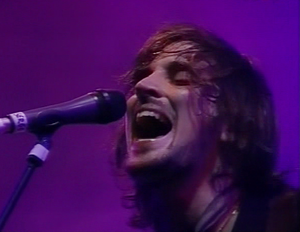 Test Transmission was written by Sergio Pizzorno and Christopher Karloff and is the 8th track on Kasabian's debut album.
Background
Edit
Test Transmission is sung by Serge and started its life as Rain On My Soul, also known as just "Rain".
In early 2004 "Test Transmission" was the album's working title.[1]
Test Transmission was performed regularly during the debut album era, as well as acoustically in several radio sessions. Tom used to play guitar on the song occasionally. After the end of the Kasabian Tour it was played only three times, and in September 2014 Kasabian brought it back for the first time in over five years at iTunes Festival, where they performed their debut album in its entirety to mark the tenth anniversary of its release.
Albums
Live Releases
Edit
Audio
Standing here on this burning bridge
Trying to figure out why there's nothing here
Seem like they got the fear
Cattle grids rattle gold chains
Pay it back, just cancel the chickens
And tell your son that he should steal the gold
The kings send their knights
Check these soul satellites
Test transmission
Is calling me back home
Kings send their knights
Check these soul satellites
Test transmission
Is calling me back home
To messed up to perform this
Can't you see I only miss you now
And memories, they get washed to the seas
Feeding tape through the fabric
Must tune in unless you're trapped tomorrow
And get out the sun
Get out before it gets you back
The kings send their knights
Check these soul satellites
Test transmission
Is calling me back home
Kings send their knights
Check these soul satellites
Test transmission
Is calling me back home
And I feel close enough
Taste the change
Feel the rays
It's gonna get you again
Setting sun is coming back again
References
Edit
↑

Shooman, Joe. Sound, Movement & Empire. p.95