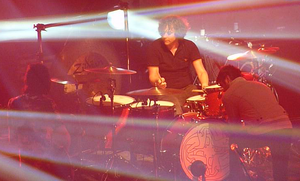 The Doberman was written by Sergio Pizzorno is the 11th track on Empire.
Background
Edit
The album version of The Doberman was recorded live in the studio, save for some overdubs. Gary Alesbrook recorded the trumpet part in one take.[1] Lyrically, The song is about self-destruction, rejoicing in the fact that you're not alone, and "waking up to yourself".[2] Both Serge and Chris have named it as their favourite song on the album.[3][2]
Debuted on 20 May 2006 in Mexico City, The Doberman was played at nearly every gig until 2011, with Serge often improvising vocals over the instrumental buildup. In the line "this beat up London sky" Tom usually substitutes the name of the respective city or country. Starting in summer 2009 the band played an extended version of the song, featuring a long trumpet ending. The Doberman was still performed during the UK warm up tour in June 2011 but dropped for the rest of the Velociraptor! Tour. It returned on the 48:13 Tour, first the band played the first verse and chorus as a short intro to Take Aim, in November 2014 they started performing a longer version of it, but still not the full song.
The song has been performed acoustically a few times, and once by Serge on his own for American radio station YRock on XPN in September 2006.
"I wrote it in my kitchen at home. It was weird because I don't know where it came from. Sometimes you get songs and you don't believe they're yours. I played it to the boys and we just decided to make it bigger and bigger!"

— Serge (NME, 2 September 2006)
Albums
Live Releases
Edit
Silence in the yard
Doberman's asleep
You never have to lay your head down here
Watch them disappear
The truth is
They never had no future
They never had no past
I was alone
I was alone again
This beat up London sky
Whiskey's almost dry
I smile 'cause I've already escaped
Just like to see how far I can take it
They never had no future
They never had no past
I was alone
I was alone again
They never had no future
They never had no past
I was alone
I was alone again
Silence in the yard
Doberman's asleep
You never have to lay your head down here
Watch them disappear
References
Edit