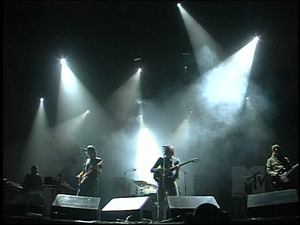 The Nightworkers was written by Sergio Pizzorno and Christopher Karloff and released as a b-side to Processed Beats.
Background
Edit
Debuted in London on 9 September 2004, The Nightworkers remained in the set throughout 2004 and 2005. It's the only song Tom regularly played guitar on during live shows, and on the decision to do so he said: "There's a first time for everything. The guitar is there to be used so you've got to use it haven't you? It's only three chords but who gives a fuck?"[1]
Singles
Live Releases
Edit
Audio
References
Edit
Ad blocker interference detected!
Wikia is a free-to-use site that makes money from advertising. We have a modified experience for viewers using ad blockers

Wikia is not accessible if you've made further modifications. Remove the custom ad blocker rule(s) and the page will load as expected.