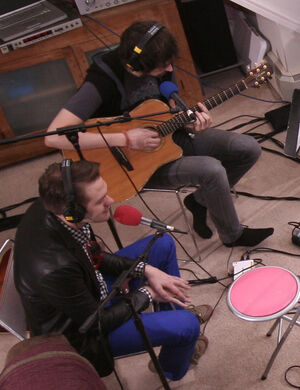 The Sweet Escape is a song by Gwen Stefani, released on her 2006 album by the same name.
Background
Edit
Kasabian first covered The Sweet Escape song at the BBC Radio 1 Live Lounge in September 2009, together with Deception by Blackalicious. They revisited this version at a secret acoustic gig in Dublin later that month, this time also including a part of Everybody's Got To Learn Sometime. Both times they altered the lyrics slightly to suit a male singer.
The Sweet Escape was briefly rumoured to be released together with Video Games for Record Store Day 2012, but nothing came of it.[1]
"I hate ironic covers, I wanted to do something we liked. We made the verse sound like The Animals, and then we played a bit of Blackalicious at the end. I slipped it in, under the radar. If I can get them on the radio and people check them out afterwards, it's job done."

— Serge (West Ryder Pauper Lunatic Asylum Tour Programme)
Radio 1's Live Lounge – Volume 4
If I could escape I would
But first of all let me say
I must apologize for acting stank
And treating you this way
'Cause I've been acting like sour milk all on the floor
It's your fault you didn't shut the refrigerator
Maybe that's the reason I've been acting so cold
If I could escape
And create a place that's my own world
I could be your favourite boy forever
Perfectly together
Tell me girl now wouldn't that be sweet
If I could be sweet
I know I've been a real bad boy
I didn't mean for you to get hurt whatsoever
We can make it better
Tell me girl now wouldn't that be sweet
You held me down
I'm at my lowest boiling point
Come help me out
I need to get me out of this joint
Come on let's bounce
Counting on you to turn me around
Instead of clowning around
Let's find some common ground
So baby, times get a little crazy
I've been getting a little lazy
Waiting on you to come save me
I can see that you're angry
By the way that you treat me
Hopefully you don't leave me
Wanna take you with me
If I could escape
And create a place that's my own world
I could be your favourite boy forever
Perfectly together
Tell me girl now wouldn't that be sweet
If I could be sweet
I know I've been a real bad boy
I didn't mean for you to get hurt whatsoever
We can make it better
Tell me girl now wouldn't that be sweet
References
Edit