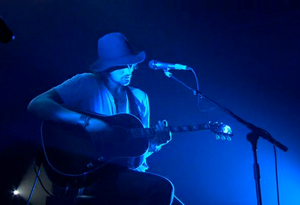 U Boat was written by Sergio Pizzorno and Christopher Karloff and is the 13th track on Kasabian's debut album.
Background
Edit
U Boat was originally written as a piano piece and inspired by Tangerine Dream.[1] In an interview for BBC 6 Music in 2004 Tom explained that Serge wrote U Boat when he was feeling "affectionate and alone".
On most versions of the album U Boat contains the Jacknife Lee version of Reason Is Treason as a hidden track.
U Boat was played regularly during 2004 and 2005, usually performed by Serge sitting on a chair. After being dropped in September 2005, it was brought back for four dates in early 2009 and then dropped again. In September 2014 Kasabian played it for the first time in over five years at iTunes Festival, where they performed their debut album in its entirety to mark the tenth anniversary of its release.
Albums
Live Releases
Edit
Audio
I sit and wait for you
'Cause this war's never over
And I hear the talk in codes
If you want me then come get me
You want me so come get me
I'm standing with my allies
Selling arms to strangers
Watch them shoot you down
There ain't nothing I would say to you
But I know your eyes are fearing
And I watch as you creep by
Won't find my way, won't let go
Find my way, won't let go
I'm standing with my allies
Selling guns to strangers
Sit and let me sin
References
Edit