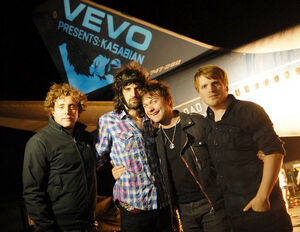 VEVO Presents Kasabian was a secret gig taking place inside a disused Boeing 747 at Bruntingthorpe Aerodrome in Leicestershire, England on 5 September 2011.
Background
Edit
Kasabian were approached by music video website VEVO about hosting a secret gig as part of their VEVO Presents series and decided to do something "really memorable" instead of choosing a conventional venue.[1] 100 pairs of tickets were given away via the band's official website, the winners of which were taken to Bruntingthorpe in coaches, where the exact location of the gig was revealed.
A video of the performance was later released on the Velociraptor! Super Deluxe Box, while audio tracks were released as b-sides on the Re-Wired single as well as on the Man Of Simple Pleasures Italian Special EP.
Shoot The Runner is the only song performed at the gig that was not released
References
Edit
Ad blocker interference detected!
Wikia is a free-to-use site that makes money from advertising. We have a modified experience for viewers using ad blockers

Wikia is not accessible if you've made further modifications. Remove the custom ad blocker rule(s) and the page will load as expected.