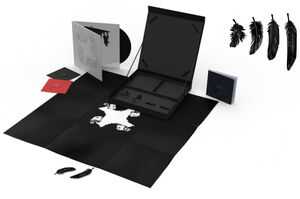 Main article: Velociraptor!
Released on 16 January 2012.
Tracklisting
Edit
CD

Vinyl
Let's Roll Just Like We Used To
Days Are Forgotten
Goodbye Kiss
La Fee Verte
Velociraptor!
Acid Turkish Bath (Shelter From The Storm)
I Hear Voices
Re-Wired
Man Of Simple Pleasures
Switchblade Smiles
Neon Noon

DVD
Let's Roll Just Like We Used To (Documentary)
The Story of the Velociraptor!
VEVO Presents Kasabian: Live in Leicester

Velociraptor!
Days Are Forgotten
Re-Wired
Switchblade Smiles

Switchblade Smiles (Video)
Switchblade Smiles (Making of)
Days Are Forgotten (Video)
Days Are Forgotten (Making of)
Re-Wired (Video)
Re-Wired (Making of)
Limited release of 1,000 copies. Includes
the special edition of Velociraptor!, including Pistols At Dawn as a bonus track, in a black wax-sealed envelope
the regular edition of the album on a 10" double vinyl signed by the band and featuring the alternative artwork
a DVD in a red wax-sealed envelope containing

a documentary spanning the band's career from the recording of Empire until Isle of Wight Festival 2011
a track-by-track description of the album
the band's live gig inside a Boeing 747 in Leicester from 5 September 2011
three official videos and their accompanying making-ofs

a large poster depicting the Velociraptor! artwork
a hard-cover booklet containing lyrics, photographs and sketches
four metal feathers representing the artwork of the four singles, made by British jewellery designers Dower & Hall[1]
Main article: Gallery
References
Edit
Ad blocker interference detected!
Wikia is a free-to-use site that makes money from advertising. We have a modified experience for viewers using ad blockers

Wikia is not accessible if you've made further modifications. Remove the custom ad blocker rule(s) and the page will load as expected.