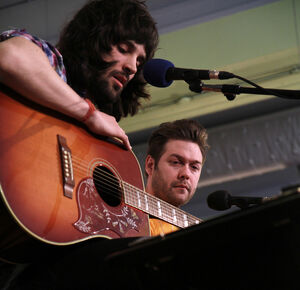 Video Games is a song by Lana Del Rey, released on her 2012 debut album Born To Die.
Background
Edit
Kasabian covered Video Games at the BBC Radio 1 Live Lounge in October 2011, with Serge singing lead vocals and slightly modified lyrics to suit a male singer. Serge explained the choice saying it "stopped him in his tracks", a rare feat in modern pop music.[1] Asked about the "secret" of it, he described it as a very traditional, sad song with simple chords and compared it to Burt Bacharach.[2]
Video Games was briefly rumoured to be released together with The Sweet Escape for Record Store Day 2012 but nothing came of it.[3] It was eventually released in October 2012 on the compilation album BBC Radio 1's Live Lounge 2012.
In April 2012 Lana Del Rey returned the favour by covering Goodbye Kiss at the BBC Radio 1 Live Lounge, saying: "I really loved it when they covered 'Video Games'. I thought that was great."[4]
"I honestly don't know anything about Lana Del Rey. We had to do a cover. I heard the song on the radio and thought it was beautiful so we just did it you know. I innocently sort of heard this beautiful song and covered it. I think it's an incredible song."

— Serge (Ladygunn, 28 January 2012)
BBC Radio 1's Live Lounge 2012
Swinging in the backyard
Pull up in your fast car
Whistling my name
Open up a beer
And you say get over here
Play a video game
And I'm in a real mess
Watching you get undressed
Take that body downtown
And I say you the bestest
Lean in for a big kiss
Put your favourite perfume on
And play a video game
It's you, it's you, it's all for you
Everything I do
I tell you all the time
Heaven is a place on earth with you
Tell me all the things you want to do
I heard that you like the bad girls
Honey, is that true?
It's better than I ever even knew
They say that the world was built for two
Only worth living if somebody is loving you
Baby now you do
Singing in the old bars
Swinging with the old stars
Living for the fame
Kissing in the blue dark
Playing pool and wild darts
Video games
So hold me in your sweet arms
Drunk and I'm seeing stars
This is all I think of
Watching all our friends fall
In and out of Old Paul's
This is my idea of fun
Playing video games
It's you, it's you, it's all for you
Everything I do
I tell you all the time
Heaven is a place on earth with you
Tell me all the things you want to do
I heard that you like the bad girls
Honey, is that true?
It's better than I ever even knew
They say that the world was built for two
Only worth living if somebody is loving you
Baby now you do
References
Edit