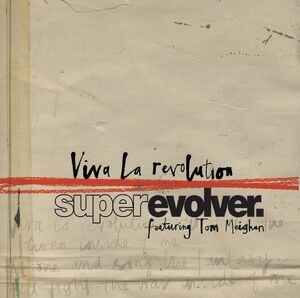 Viva La Revolution is a song by SuperEvolver, released as a single in November 2010, which features vocals from Tom Meighan.
Background
Edit
SuperEvolver are a Leicester band and long-time friends of Kasabian, who came up with the idea of releasing a song for Harley Staples and asked Tom to sing on it. The single was released digitally at first and later got a limited physical release of 1,000 copies, with all proceeds going to the Harley Staples Cancer Trust and UNICEF's Pakistan Flood Children's Appeal. A remix by DJ and producer Dan Thomas was released as a b-side.
Viva La Revolution (2010)
Ad blocker interference detected!
Wikia is a free-to-use site that makes money from advertising. We have a modified experience for viewers using ad blockers

Wikia is not accessible if you've made further modifications. Remove the custom ad blocker rule(s) and the page will load as expected.