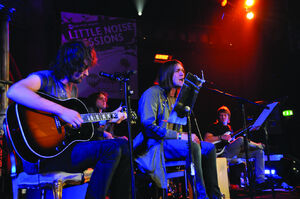 Who Loves The Sun is a song by The Velvet Underground, released on their 1970 album Loaded.
Background
Edit
Kasabian covered the song at the Little Noise Sessions on 14 November 2008 and then again in an acoustic session for French radio station Oui FM in April 2009. Serge claimed that they were inspired to play it on Oui FM because the sun was shining when they arrived in Paris that morning.
Unreleased
References
Edit
Ad blocker interference detected!
Wikia is a free-to-use site that makes money from advertising. We have a modified experience for viewers using ad blockers

Wikia is not accessible if you've made further modifications. Remove the custom ad blocker rule(s) and the page will load as expected.